White Bean Soup
By
Deen Brothers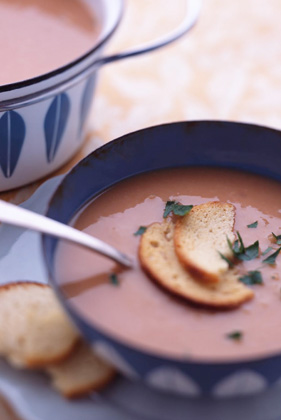 Prep time:

10 minutes

Cook time: 45 minutes
Servings: 4
Ingredients
1 tablespoon olive oil
1 tablespoon unsalted butter
1 yellow onion
2 teaspoons chopped garlic
1/4 cup tomato paste
2 15 1/2-ounce cans white beans
4 cups low-sodium chicken broth
Salt and freshly ground black pepper
4 small round loaves bread optional
2 teaspoons chopped fresh parsley
Directions
In a soup pot, heat the oil and butter over medium heat. Add onion; saute for 3 to 5 minutes or until softened. Add the garlic; saute about 1 minute or until fragrant. Stir in the tomato paste. Add white beans and broth; bring to a boil.
Reduce heat and simmer for 20 minutes. Add salt and pepper to taste. Transfer the soup to a blender or food processor; puree until fairly smooth.
If desired, slice the top off each of the loaves and hollow out about 1 1/2 cups of bread from each. (Save bread to make croutons or bread crumbs later.) Ladle the soup into the bread bowls and garnish with parsley.