Vidalia Onion Dutch Baby
By
Paula Deen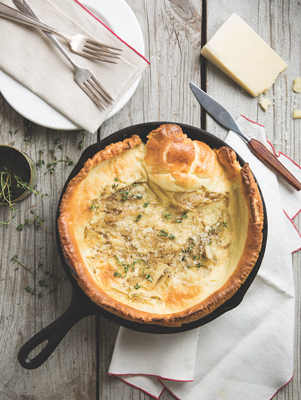 Prep time:

30 minutes

Cook time: 25 minutes
Servings: 4 to 6
Ingredients
3 tablespoons vegetable oil, divided
1 ½ cups Vidalia onions, sliced
¾ teaspoon kosher salt, divided
½ teaspoon light brown sugar, firmly packed
¼ teaspoon ground black pepper
½ teaspoon fresh thyme leaves
4 large eggs, room temperature
½ cup half-and-half
¾ cup all-purpose flour
1 ½ teaspoons garlic powder
fresh thyme, for garnish
grated Parmesan cheese, for garnish
ground black pepper, for garnish
Directions
Preheat oven to 450°.
In a 12-inch cast-iron skillet, heat 2 tablespoons oil over medium-high heat. Add onion, ½ teaspoon salt, brown sugar, and pepper; cook, stirring occasionally, until onion is translucent, 7 to 10 minutes. Stir in thyme. Remove onion from skillet; wipe skillet clean.
Add remaining 1 tablespoon oil to skillet. Place skillet in oven to preheat for 10 minutes.
In a large bowl, whisk together eggs and half-and-half until well combined. Add flour, garlic powder, and remaining ¼ teaspoon salt, whisking until smooth. Carefully pour batter into hot skillet, and top with onion.
Bake until puffed and golden brown, about 15 minutes. Garnish with thyme, Parmesan, and pepper, if desired. Serve immediately.
Baking Tip: Don't be alarmed when your Dutch baby starts to deflate as soon as you remove it from the oven; that is exactly what is supposed to happen.