Roasted Lemon Chicken with Red Grapes
By
Deen Brothers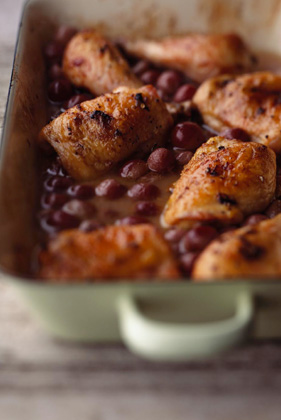 Prep time:

10 minutes

Cook time: 55 minutes
Servings: 6
Ingredients
4 to 5 pounds chicken drumsticks and thighs bone-in
1 clove garlic
4 tablespoons unsalted butter
2 teaspoons lemon zest, finely grated
2 tablespoons freshly squeezed lemon juice
salt
freshly ground black pepper
2 pounds seedless red grapes
1 teaspoon sugar
Directions
Preheat oven to 425°F. Rinse chicken and pat dry with paper towels. Rub the chicken pieces all over with the cut sides of the garlic clove. Place chicken in a large bowl.
In a small bowl, whisk together 2 tablespoons of the melted butter, the lemon zest, and lemon juice; season generously with salt and pepper. Pour the butter mixture over the chicken pieces and toss to coat.
In a separate bowl, toss together the grapes, the remaining 2 tablespoons melted butter, and the sugar. Season the grapes with salt and pepper. Arrange the grapes in the bottom of a 9—13-inch baking pan.
Place the chicken on top of the grapes. Roast, without turning, for 40 to 45 minutes or until chicken is cooked through and the juices run clear when chicken is pricked with a fork.