Risotto Cakes
By
Deen Brothers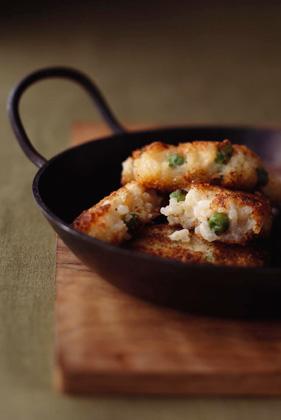 Prep time:

15 minutes

Cook time: 35 minutes
Servings: 20 cakes
Ingredients
4 cups low-sodium chicken broth
1 cup water
2 tablespoons olive oil plus additional for sauteing
1 tablespoon unsalted butter
1 small yellow onion
1 1/2 cups uncooked Arborio rice
1/2 cup white wine
1 cup frozen peas
1 1/2 cups Parmesan cheese, grated
salt
Freshly ground black pepper
1 cup dried bread crumbs
Directions
In a saucepan, bring the broth and water to a simmer.
Meanwhile, in a medium saucepan or large skillet, heat 2 tablespoons oil and the butter over medium heat. Add the onion; saute for 3 to 5 minutes or until translucent, stirring occasionally. Add rice; cook and stir for 1 minute, coating all the grains. Add the wine; cook and stir until it is almost evaporated. Add the simmering broth, 1/2 cup at a time; stir often and let almost all the liquid absorb before adding the next 1/2 cup. Continue adding broth in this way for 18 to 20 minutes or until the rice is creamy yet firm. (If you run out of broth before the rice is done, you can add simmering water.) Stir in the peas and Parmesan cheese; season to taste with salt and pepper. Let risotto cool.*
Form 1/4-cup portions of the risotto into cakes. Dredge the cakes in the bread crumbs. In a large nonstick skillet, heat a thin film of additional oil over medium heat until shimmering. Saute the cakes, in batches, in the hot oil about 1 minute per side or until brown. Add more oil to skillet between batches as necessary. Serve hot.
*You can refrigerate the risotto for up to one day at this point.