Pot Roasted Beef with Sweet Potatoes and Celery
By
Deen Brothers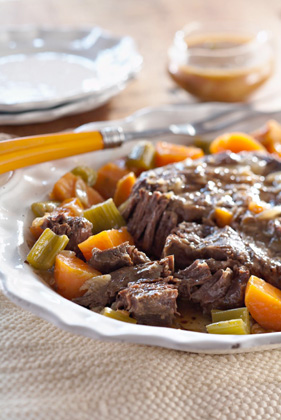 Ingredients
2 tablespoons vegetable oil
1 3-pound beef chuck roast
Salt and freshly ground black pepper
1 10.75-ounce can condensed cream of mushroom soup
1/2 cup low-sodium chicken broth
1/2 cup dry white wine
1/2 cup water
1 medium onion
1 pound sweet potatoes
3 large stalks celery
Directions
Position oven rack in the bottom third of the oven. Preheat oven to 325°F.
In a large Dutch oven, heat the oil over medium-high heat. Season the roast with salt and pepper. Brown the roast on all sides in the oil.
Pour the soup, chicken broth, wine, and water over the roast; add the onion and stir. Cover the pot with a tight-fitting lid and transfer to the oven. Braise roast about 2 1/2 hours or until tender, turning roast occasionally. Add the sweet potatoes and celery; cover and continue to cook about 45 minutes more or until the vegetables are tender.