Pecan-Crusted Chicken Thighs
By
Paula Deen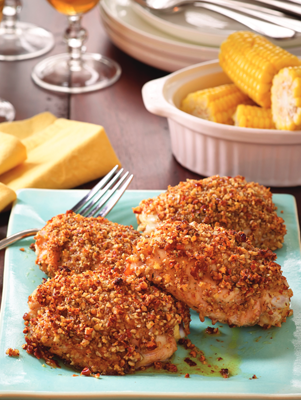 Enjoy Paula Deen's pecan-crusted chicken thighs recipe as a healthy, family supper you can make in less than an hour.
Prep time:

20 minutes

Cook time: 25 minutes
Servings: 4
Ingredients
½ cup finely chopped pecans
3 tablespoons plain bread crumbs
¾ teaspoon salt
½ teaspoon chili powder
½ teaspoon dried thyme (about ½ pound each), patted dry
4 bone-in, skinless chicken thighs
1 egg white, lightly beaten with 1 teaspoon water
2 tablespoons olive oil
Directions
Preheat the oven to 400˚F. Lightly grease a rimmed baking sheet with cooking spray.
In a small bowl, combine the pecans, bread crumbs, salt, chili powder, and thyme.
Dip each chicken thigh into the beaten egg white mixture, letting any excess drip off. Dip into the pecan mixture and turn to coat evenly.
Place the chicken thighs on the prepared baking sheet. Drizzle with the oil. Bake until the chicken is cooked through and the coating is golden, about 25 minutes.