Paula Deen Cuts the Fat: Zucchini Boats with Tomato, Rice, and Olives
By
Paula Deen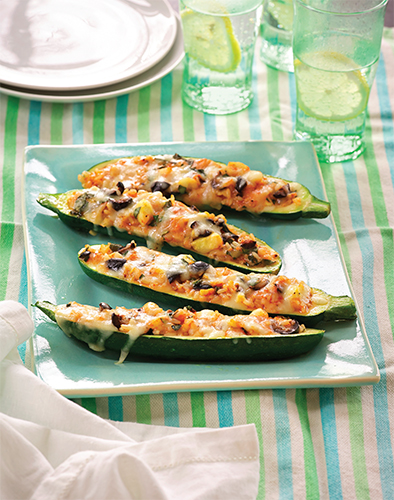 Ingredients
2 sliced in half lengthwise medium zucchini
for brushing olive oil
1 cup part skim mozzarella
3/4 cup brown or white rice cooked rice
2 tablespoons tomato sauce
2 tablespoons chopped black olives
1/2 teaspoon Paula Deen's House Seasoning
2 dashes or to taste hot sauce
2 tablespoons chopped fresh basil
Directions
Preheat the oven to 400 °F.
Brush the cut sides of the zucchini with the oil and place, cut side down, on a rimmed baking sheet. Bake for 15 minutes, until tender. Using a teaspoon, gently scoop the flesh from the zucchini into a medium bowl, being real careful to leave the shells intact. Lower the oven temperature to 350 °F.
To the zucchini flesh, add 3/4 cup of the mozzarella, the rice, tomato sauce, olives, basil, House Seasoning, and hot sauce and mix well. Fill the zucchini shells with the mixture and top with the remaining 1/4 cup mozzarella. Bake until the cheese is melted and the stuffing is heated through, 10 to 12 minutes.