Paula Deen Cuts the Fat: Baked Beans
By
Paula Deen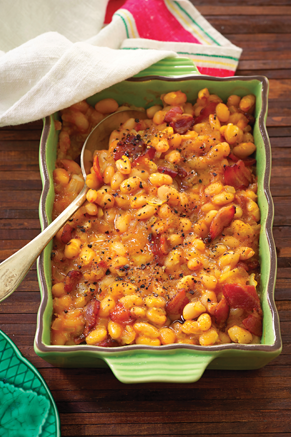 Prep time:

15 minutes

Cook time: 15 minutes
Servings: 15
Ingredients
3 slices chopped turkey or regular bacon
1 tablespoon olive oil
1 finely chopped onion
1 can (15 oz) 1/4 cup bean liquid reserved navy beans
3 tablespoons regular or reduced-sugar ketchup
2 tablespoons maple syrup
1 tablespoon yellow or dijon mustard
1 teaspoon dry mustard
freshly ground black pepper
Directions
Spoon the bean mixture into the prepared baking dish. Cover loosely with aluminum foil and bake until the edges are bubbly and the filling is hot, about 25 minutes.
Preheat the oven to 350 °F. grease a 1- quart baking dish with cooking spray.
In a medium skillet, cook the bacon over medium heat until crisp, about 5 minutes. if you are using turkey bacon, grease the skillet with cooking spray before cooking the bacon. Drain the bacon on a paper towel– lined plate.
Drain off and discard the fat from the skillet and set the pan over medium heat. add the oil and onion and cook, stirring, until soft, about 5 minutes. remove from the heat. stir in the drained bacon, the beans, ketchup, syrup, yellow mustard, dry mustard, and pepper to taste.