Mixed Grilled Veggies in a Basket
By
Deen Brothers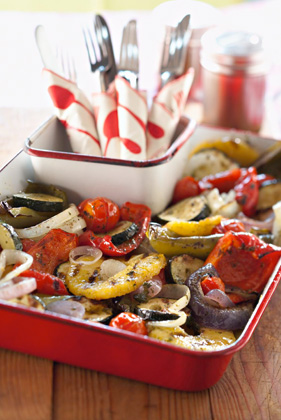 Ingredients
1/2 cup tightly packed fresh basil leaves
1/2 cup extra virgin olive oil
2 tablespoons freshly squeezed lemon juice
1 clove garlic
Salt
2 medium red
2 medium onions red
1 medium zucchini
1 pint cherry tomatoes
1 pineapple
Directions
Prepare the grill for medium-high direct heat.
In a blender or food processor, combine the basil, olive oil, lemon juice, garlic, and salt to taste; blend until smooth.
Brush or toss the vegetables (but not the pineapple) with half of the basil oil; arrange in a grilling basket. Place the pineapple in a separate grilling basket or directly on the grill. Grill about 10 minutes or until grill marks appear, turning once or twice. Serve the veggies and pineapple together on a platter drizzled with the remaining basil oil and additional salt if desired.