Many Jam Thumbprints
By
Deen Brothers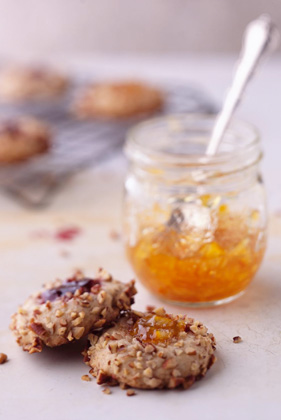 Servings: about 42 cookies
Ingredients
1 1/2 cups all-purpose flour
3/4 cup ground pecans
1 teaspoon baking powder
1/8 teaspoon salt
3/4 cup (1 1/2 sticks) of unsalted butter
3/4 cup granulated sugar
1 egg
1 teaspoon vanilla
1 1/2 cups finely chopped pecans
1/2 cup fruit jam such as raspberry
Directions
Preheat oven to 375°F. Grease 2 large baking sheets; set aside.
In a large bowl, whisk together the flour, ground pecans, baking powder, and salt; set aside. In the bowl of an electric mixer, cream together the butter and sugar until fluffy. Beat in the egg and vanilla. Slowly add the fl our mixture; mix until fully combined.
Roll the dough into 1-inch balls. Roll balls in the chopped pecans. Place the balls 2 inches apart on the prepared baking sheets. Using your finger, make a deep (not wide) indentation in the cookie and fi ll each depression with jam. Bake for 12 to 14 minutes or until light golden brown. Transfer cookies to a wire rack to cool.