Lattice-Top Blueberry Pie
By
Deen Brothers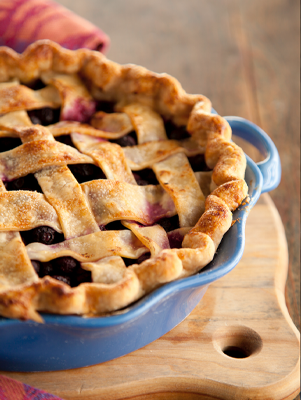 Ingredients
1 15-ounce package rolled refrigerated unbaked piecrusts 2 crusts
3 pints blueberries
3/4 cup sugar
1/3 cup quick-cooking tapioca
2 teaspoons finely grated lemon zest
1 tablespoon freshly squeezed lemon juice
1/4 teaspoon ground cinnamon
Directions
Preheat oven to 400°F. Let pie crusts stand at room temperature for 15 minutes or as directed on package. Meanwhile, in a large bowl, toss together the blueberries, sugar, tapioca, lemon zest, lemon juice, and cinnamon. Set aside.
Line a 9-inch pie plate with 1 of the pie crusts. Using a sharp knife, slice the remaining piecrust into 1/2-inch-wide strips.
Spoon the blueberry mixture into the pie shell. Arrange the piecrust strips in a lattice pattern on top. Flute edges of crust. Place the pie on a foil-lined rimmed baking sheet.
Bake for 30 minutes. Reduce oven temperature to 350°F. Bake for 20 to 25 minutes more or until the berries are bubbling and the crust is golden. Transfer pie to a rack to cool before serving.