Fall Harvest Salad with Maple Vinaigrette
By
Deen Brothers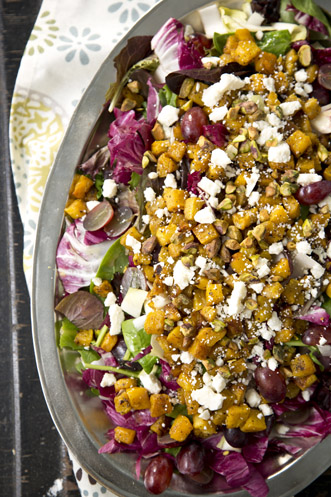 Prep time:

15 minutes

Cook time: 30 minutes
Servings: 4 to 6
Ingredients
1 small butternut squash 1 ½ pounds
2 tablespoons olive oil
kosher salt and freshly ground black pepper
3 cups mixed baby greens
A head of radicchio
1 Belgian endive
1 cup seedless red grapes
½ cup crumbled feta
½ cup chopped salted and roasted pistachios
makes about 1/2 cup
A small shallot
2 tablespoons red wine vinegar
1 tablespoon real maple syrup
1 teaspoon Dijon mustard
3 tablespoons olive oil
kosher salt and freshly ground black pepper
Directions
Preheat the oven to 400°F
Place the butternut squash on a sheet tray and drizzle with the oil. Season with salt and pepper and toss it all together. Roast for 30 minutes, giving the squash a good flip halfway through to ensure that it cooks evenly. Allow to cool to room temperature.
Meanwhile, make the maple vinaigrette: In a glass jar with a tight-fitting lid, combine the shallot, vinegar, maple syrup, Dijon, olive oil, and salt and pepper. Shake well to combine; taste and adjust seasoning.
After the squash has cooled, get yourself a large serving bowl and combine half of the butternut squash (reserve the rest for another use or nibble on it while you're preppin' the salad), the mixed greens, radicchio, endive, grapes, feta, and pistachios. Drizzle with the maple vinaigrette and toss it all together real well. Serve it up immediately.
Cooking Tips
If your kids are adverse to sharp flavors, serve up their salad at the table before mixing in the bitter radicchio and endive. When Jack transitioned to table food, Brooke would roast butternut squash, put it through a processor, pour it into ice-cube trays and then freeze it so we'd always have some on hand.