Crab-Corn Cakes with Basil-Jalapeno Sauce
By
Deen Brothers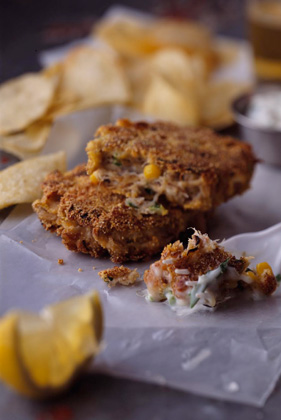 Ingredients
3 tablespoons unsalted butter
4 scallions
1 clove garlic
1 pound crab claw meat
1/2 cup frozen corn
1/2 cup dried bread crumbs
1 egg
3 tablespoons mayonnaise
1 tablespoon Dijon mustard
2 teaspoons chopped fresh parsley leaves
Freshly ground black pepper
2 tablespoons vegetable oil
1/3 cup yellow cornmeal
1/2 cup mayonnaise
1 jalapeño
1 clove garlic
2 tablespoons chopped fresh basil leaves
2 teaspoons capers
1 1/2 teaspoons freshly squeezed lemon juice
Pinch salt
Freshly ground black pepper
Directions
In a medium skillet, heat 1 tablespoon of the butter over medium-high heat. Add the scallions and garlic. Cook and stir for 2 to 3 minutes or until softened. Place the mixture in a large bowl. Add the crabmeat, corn, bread crumbs, egg, mayonnaise, mustard, parsley, and pepper to taste; mix well. Divide the mixture into 12 portions and form into 1/2-inch-thick patties. Place the patties on a baking sheet and chill for 1 hour.
Meanwhile, in a small bowl, stir together all of the tartar sauce ingredients. Refrigerate until ready to use.
Preheat oven to 375°F. In a large skillet, heat the remaining 2 tablespoons butter and the oil over medium-high heat. Dredge each crab cake in the cornmeal, turning to coat evenly. Sear the cakes for 3 to 4 minutes per side or until golden brown. Return the crab cakes to the baking sheet. Bake for 10 minutes. Serve crab cakes hot with Basil-Jalapeno Tartar Sauce.