Crab and Artichoke Quiche
By
Deen Brothers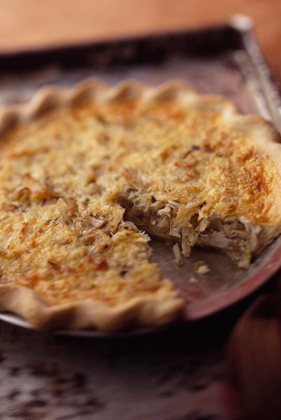 Ingredients
2 tablespoons unsalted butter
1/2 cup chopped onion
1 stalk celery
3/4 cup marinated artichokes
4 eggs
1 cup heavy cream
1 teaspoon bottled hot pepper sauce
1 teaspoon Worcestershire sauce
1/2 teaspoon salt
Freshly ground black pepper
4 ounces cream cheese
1 9- to 10-inch prepared single piecrust
1/4 cup shredded Parmesan cheese
6 ounces flaked
Directions
Preheat oven to 350°F. In a medium skillet, melt the butter over medium heat. Add the onion and celery. Cook and stir about 5 minutes or until softened. Add the artichokes; cook for 1 minute more. Set aside. In a bowl, whisk together the eggs, cream, hot sauce, Worcestershire sauce, salt, and pepper to taste. Set aside.
Spread the cream cheese cubes evenly in the bottom of the piecrust. Sprinkle the Parmesan over the cream cheese. Spread the artichoke mixture and the crabmeat over the cheeses. Fill the crust with the egg mixture.
Bake for 35 to 40 minutes or until just set. Let stand for 5 minutes before serving.