Chopped Chef's Salad with Homemade Brown Bread Croutons
By
Deen Brothers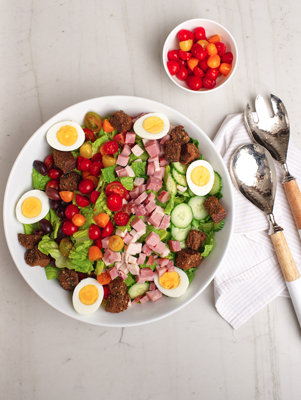 Ingredients
1 1/2 ounces brown bread
1 1/2 tablespoons extra virgin olive oil
Salt and freshly ground black pepper
3 tablespoons red wine vinegar
1 tablespoon Dijon mustard
6 tablespoons extra virgin olive oil
1 clove garlic
Salt and freshly ground black pepper
3 heads romaine lettuce
4 ounces ham
4 ounces turkey
1/2 cup pitted kalamata olives
1/2 cup cherry tomatoes
2 hard-cooked eggs
1 cucumber
Directions
For the croutons, preheat oven to 350°F. Spread the bread cubes in a single layer on a baking sheet. Drizzle bread with the oil and sprinkle with salt and pepper. Bake for 12 to 15 minutes or until crisp and golden, tossing occasionally. Set aside.
For the dressing, in a small bowl, whisk together the vinegar and mustard. Slowly drizzle in the oil, whisking constantly. Whisk in the garlic and salt and pepper to taste.
For the salad, in a large bowl, toss together the salad ingredients and the croutons. Add just enough dressing to coat the lettuce and toss again.