Chocolate-Peanut Butter Chippers
By
Deen Brothers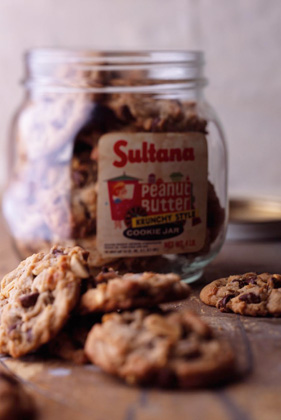 Servings: about 54 cookies
Ingredients
2 1/2 cups all-purpose flour
1 teaspoon baking soda
1/4 teaspoon salt
1 1/4 cups smooth peanut butter
1 cup (2 sticks) unsalted butter
1 1/2 cups light brown sugar, packed
2/3 cup granulated sugar
2 large eggs
1 tablespoon light corn syrup
2 teaspoons vanilla
1 (10-ounce) bag milk chocolate chips
1/2 cup salted peanuts, chopped
Directions
Preheat oven to 350°F. Grease 2 large baking sheets; set aside.
In a large bowl, whisk together the fl our, baking soda, and salt; set aside. In the bowl of an electric mixer, cream together the peanut butter, butter, and sugars until fluffy. Add the eggs, one at a time, beating after each addition. Beat in the corn syrup and vanilla. Slowly add the flour mixture; mix until fully combined. Fold in the chocolate chips and peanuts.
Drop the cookie dough by heaping teaspoons 2 inches apart onto the prepared baking sheets. Bake for 12 to 14 minutes or until golden brown around the edges. Transfer cookies to a wire rack to cool.