Baked Mac and Cheese
By
Deen Brothers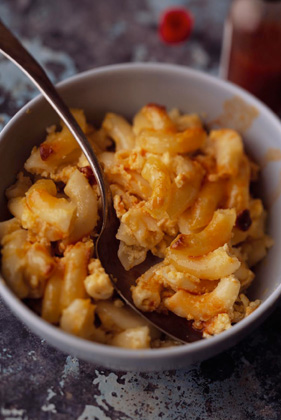 Prep time:

20 minutes

Cook time: 40 minutes
Servings: 8-10
Ingredients
2 cups uncooked elbow macaroni
8 ounces cheddar cheese
8 ounces American cheese
1 cup whole milk
1/2 cup sour cream
2 eggs
1/4 cup unsalted butter
1 teaspoon bottled hot pepper sauce
1/2 teaspoon salt
Directions
Preheat oven to 350°F. Grease a 9-by—13-inch baking dish; set aside. In saucepan, cook macaroni according to package directions; drain. Return macaroni to saucepan.
While the macaroni is hot, add the cheeses to the pan; stir well. Spread the macaroni mixture in the prepared baking dish. In a bowl, whisk together the milk, sour cream, eggs, butter, hot sauce, and salt. Pour the milk mixture over the macaroni.
Bake for 35 to 40 minutes or until golden brown and bubbling. Let stand for 10 minutes before serving.