Bacon-Wrapped Corn on the Cob
By
Deen Brothers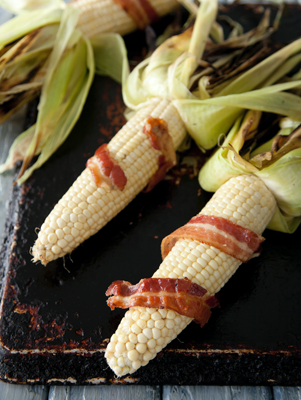 Prep time:

10 minutes

Cook time: 10 minutes
Servings: 4
Ingredients
4 ears corn
4 slices bacon
Freshly ground black pepper
Directions
Prepare a grill for low direct heat.
Peel back the cornhusks but do not remove them. Pull out and discard all the silk. Working from top to bottom, wrap a strip of bacon in a spiral around each ear of corn. Season with pepper. Pull the husk back over the corn. Wrap a piece of foil tightly around the top 1 1/2 inches of the ear of corn. (Or use a piece of kitchen twine soaked in water to tie the tops of the cornhusks closed.)
Grill the corn about 10 minutes or until the husks are brown all over, turning occasionally. Let corn cool for 5 minutes before serving.