Air Fryer Fried Ravioli on a Stick
By
Paula Deen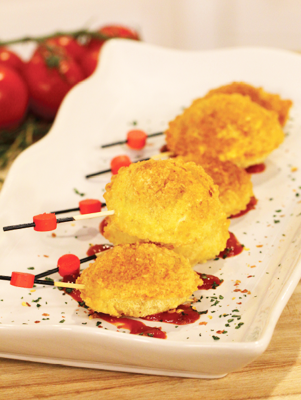 Ingredients
1 cup All-purpose flour
2 eggs
1 cup breadcrumbs
1/2 cup grated Parmesan cheese, plus more for sprinkling
2 tablespoons dried oregano
1 teaspoon dried thyme
3 teaspoons Paula Deen's House Seasoning
12 frozen 4-cheese ravioli, thawed
olive oil, for spraying
1/2 cup pesto, for dipping
4 bamboo skewers, soaked in water
Directions
Place flour in a medium bowl. In a small bowl, beat eggs. In a shallow dish, mix breadcrumbs, 1/2 cup of the Parmesan cheese, oregano, thyme, and House Seasoning.
Add ravioli to flour, toss to coat, and gently shake off excess. Dip each ravioli in egg, shaking off excess. Roll each ravioli gently in breadcrumb mixture. On a skewer, thread 3 breaded ravioli. Spray both sides with oil.
Working in batches of 4, place skewers in air fryer basket. Set temperature to 400 degrees, and air fry for 4 minutes. Turn skewers, spray with oil, and air fry for 2 minutes more. Repeat with remaining skewers. Sprinkle with Parmesan cheese, and serve warm with warm pesto on the side.