Air Fryer Brie en Croûte
By
Paula Deen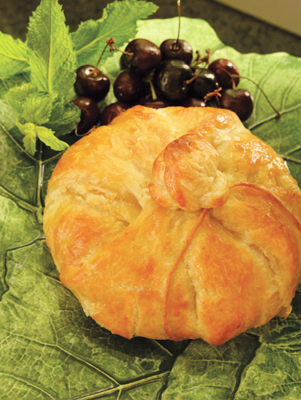 Prep time:

10 minutes

Cook time: 15 minutes
Servings: 4
Ingredients
1 tablespoon unsalted butter
½ cup chopped walnuts
⅛ teaspoon ground cinnamon
one (8-ounce) wheel brie cheese
¼ cup brown sugar
1 sheet frozen puff pastry (from 17.3-ounce package), thawed
flour, for dusting
1 egg, beaten
crackers, for serving
Directions
In a saucepan over medium heat, melt butter. Add walnuts and sauté until golden brown, about 5 minutes. Add cinnamon and stir until walnuts are well coated. Place walnuts on top of Brie, and sprinkle brown sugar on top of nuts.
Unfold puff pastry and lay on a lightly floured surface. Place Brie in center of pastry. Gather up edges of pastry, pressing around Brie and gathering at top. Gently squeeze together excess dough and tie with kitchen twine. Brush beaten egg over top and sides of Brie.
Set temperature to 400 degrees and preheat air fryer for 5 minutes. Place Brie in air fryer basket lined with parchment paper and air fry for 10 minutes, or until golden brown. Serve warm with crackers.